Welcome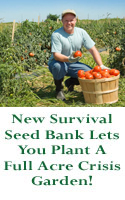 Often the first reflex to the thought of "disaster preparations" is why?  Everything's fine.  Much of the topic of disaster preparations has become categorized to the survivalism subculture.  However, many such things were common practice 50 years ago, when our infrastructure wasn't so strong.  When we weren't so industrialized, a cold cellar was standard.  "Just in time" deliveries of food and other needs have made a generation codependent on industry and markets, which the industry and markets like.  Common practices have become hobbies.  The "common" part of survival sense is "gone missing".  How much does it take to cross the line into a place of comfort during a crisis?
While a list of essentials is a start, until you've used it you don't really get the feel for how it applies.  Keep in mind that any preparations you do can't be last minute.  For many non-food items at department stores, there are only two on the shelf.  If you need that, you should get it while the market has it.  You won't have the money to buy all of what you need at the last minute, and you won't be the first person to try.  It may be the last one you ever see.
FEMA's "Are You Ready?" guide states that "You may need to survive on your own after a disaster." (page 32) and the need to be prepared for up to two weeks.  Here are two excerpts:
"Additionally, you may want to consider having supplies for sheltering for up to two weeks." Page 32.

.

"During periods of increased threat increase your disaster supplies to be adequate for up to two weeks." Page 166.

.
The presumption is that either the crisis will have abated or you will have access to government rations of emergency supplies. Typically there are three forms of extremes to consider.  Stay vs. flee.  Short-term vs. long term, and localized vs. large scale.  We will look at what someone making disaster preparations might need for different situations. Flee Short Term